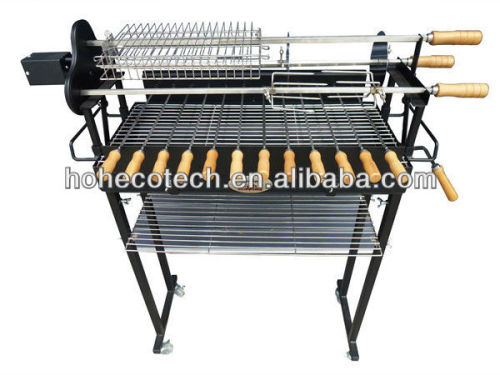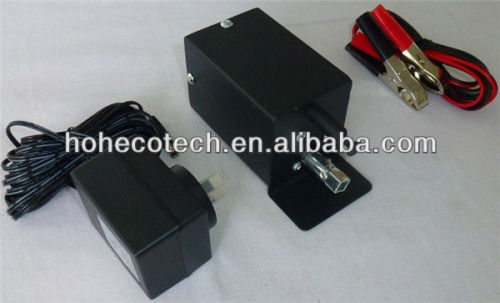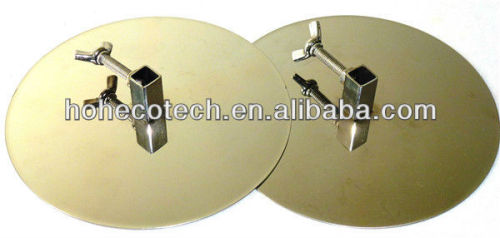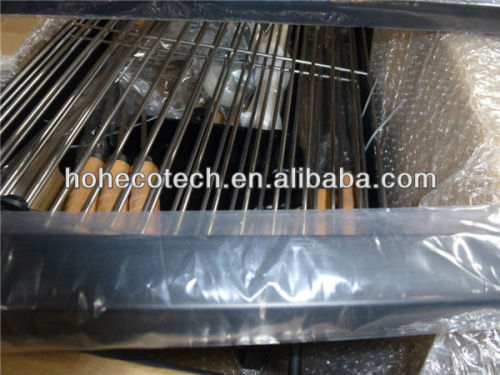 Darstellung
*easy höhenverstellung;*quick montage;*easy zu reinigen;*portable& licht gewicht.
diese spit was months in the making.  We invested heavily in tooling and machinery ensuring that this spit exceeds any
Other similar product available on the market.  While there are similar ( yet inferior)  products available,  we strongly
 believe you are best to pay a little more andGet a higher quality item that will last.All accessories are made from
 food grade 304 stainless steel undHigh temperature paint has been used on the body.  
Designed and thoroughly tested by a spit roast enthusiast from greek heritage,  you& rsquo; ll find that this is certainly one 
Which can be passed down from generation to generation to ensure those precious family traditions continue.  
Dimensionen:
Feuerraum/cooking area:  72.5cm ( l)  x 34cm ( w)  x 10.5cm ( d)  approx.  

Insgesamt:  104cm ( l)  x 60cm ( w)  x 125 ( h -  max)  94cm ( h from the ground to the top of the fire box)
Legs can also be removed so you can take the grill away with you and rest directly on a park bench
Spezifikation:
 

Zypern  herstellung

andere

rahmen

stabilität

25mm legs + added support shelf

18mm legs with no support shelf

Fire box thickness

2mm or 3mm

1.5mm

Large skewer height adjustment

Single leaver adjustment.  

No height adjustment or manual wing nuts

Kebab skewer height adjustment

Manual wing nuts

No height adjustment 

Working height

93cm -  123cm

65cm -  90cm

regal

Used for storage or a heating rack

Not provided

Side handles

metall

Holz,  subject to cracking

branding

Option to add your own branding plate

unbekannte

Quality control

Every spit is assembled before packing

unbekannte

zubehör

Accessories provided

2 prongs,  2 disks + basket

Prongs only

grill

Height adjustable

No grill provided or it is a fixed height

Large skewers

10mm thick x 3 skewers

8mm thick x 3 skewers

Kebab skewers

5mm thick x 12 skewers

2.5mm thick x 11 skewers

räder

4 all with brakes

None provided or weak  plastic if provided

Stainless steel grade

304 food grade 

201,  202 or 430 non- food grade

Quality control

Every part is assembled before packing

unbekannte

motoren

motoren

2 x electric motors

1 x electric or battery motor

Cord length

6 meters

2 meters

Quality control

Every motor is tested before packing

unbekannte
Einschlüsse:
2mm gauge thick body ( also available in 3mm)

13kg load capacity motor.  runs of either 12/240v motor with extra long 6m transformer lead.  

3 x 

10mm

 thick skewers 

12 x 

5mm

 thick skewers 

2 x prongs

2 x gyros disks ( 150mm round diameter)

1 x basket ( 350mm long -  adjustable in width)

1 x grill

4 x wheels
Easy height adjustment functionality
Extra shelf to add stability and act as a storage rack
Side handles for easy movement
Beachten: some flexibility is available when choosing which accessories ( zinken,  disks and basket)
Suitable for:
Charcoal bbqing using the grill provided

Gyros,  roasts,  chickens using the large skewers provided

Gemüse,  sausages,  fish etc in the basket

Kebabs using the small skewers provided